Welcome to Alnwick Castle, a beautifull castle in Northumberland. Northumberland is
the northernmost ceremonial county and a unitary district in North East England. It borders Cumbria to the west, County Durham to the south and Tyne and Wear to the south east and the Scottish Borders council area to the north. Its North Sea coastline is a designated Area of Outstanding Natural Beauty with a 64 mile (103 km) long distance path.Since 1981, the county council has been located in Morpeth, situated in the east of the county.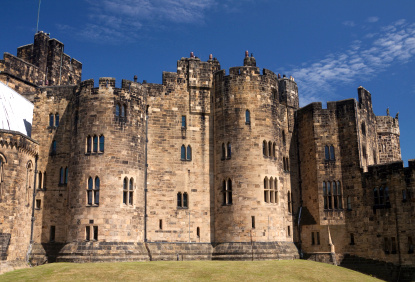 Castle for Harry Potter Lovers
Alnwick Castle is the second largest inhabited castle in England, and has been home to the Duke of Northumberland's family, the Percys, through 700 years of drama, intrigue, tragedy and romance. Alnwick castle categorized as grade I listed building. Grade I listed building means
a building that has been placed on the Statutory List of Buildings of Special Architectural or Historic Interest. It is a widely used status, applied to around half a million buildings. A listed building may not be demolished, extended or altered without special permission from the local planning authority (which typically consults the relevant central government agency, particularly for significant alterations to the more notable listed buildings). Exemption from secular listed building control is provided for some buildings in current use for worship but only in cases where the relevant religious organisation operates its own equivalent permissions procedure. Owners of listed buildings are, in some circumstances, compelled to repair and maintain them and can face criminal prosecution if they fail to do so or if they perform unauthorised alterations.
Alnwick is a motte-and-bailey castle surrounded by a colossal rampart adorned with towers at regular intervals. The Constable's Tower houses displays of military and historical interest. The Postern Tower exhibits an archaeological collection that includes frescoes from Pompeii, relics from Ancient Egypt and Romano-British objects. In the Abbot's Tower, you will find the Regimental Museum of the Royal Northumberland Fusiliers.
Another Castle View From Another Angle
Various activities and events for children are organised on the castle grounds, such as medieval workshops, falconry displays, or magic shows inspired by Harry Potter.
The northern wall was lowered almost to the ground to open up the view on a small park, known as The Pastures. The park straddles the River Aln and was landscaped by Capability Brown and Thomas Call in the 18th century. Nearby is the much larger Hulne Park, which contains the remains of the 13th-century Hulne Priory.
There are so many rooms at this castle, but only 6 of the 150+ rooms in the castle are open to the public, but these are the most sumptuous. The stern and drab character of the exterior doesn't prepare guests for the splendour of the lavishly decorated State Rooms. The two most impressive rooms are the Italian Renaissance style Drawing Room and the luxurious Dining Room. The walls are adorned with paintings by Italian and Flemish masters such as Van Dyck, Canaletto or Titian. As for the monumental Library, it was started 400 years ago and now holds over 16,000 books.
Modern comforts that take for granted, like heating and electricity, have since been added, to turn the Castle into the comfortable family home that it still is today. Alnwick Castle was amazingly one of the first homes in the North East to have electricity. Installed in 1889, it was run by a recently restored hydro-electric system which produced enough power to run only 100 electric lamps!
Alnwick Castle has two garden. The Alnwick Garden, just a few minutes walk from Alnwick Castle, is one of the world's most exciting contemporary gardens. Just ten years ago, the site was derelict and forgotten. On the castle grounds, visitors can visit "Alnwick Garden". 42 acres of formal gardens surround a magnificent fountain. Along the River Aln there is a smaller park known as 'The Pastures' and not too far away is Hulne Park.
A beautifull garden
The Alnwick Garden is now a vibrant place, with beautifully landscaped gardens, magnificent architecture and unique features, all brought to life with water.
The Garden's centrepiece is the Grand Cascade, an iconic structure and the largest water feature of its kind in the country. Inviting pathways lead among beds brimming with plants in the Rose Garden and Ornamental Garden, while in the intriguing Poison Garden guides share tales of deadly plants.
The Serpent Garden is home to water sculptures by William Pye, and there's also the Bamboo Labyrinth and even one of the world's largest treehouses with wobbly rope bridges, walkways in the sky and a treetop restaurant.
The Garden offers extensive programmes of activities and events for all the family. Although developed in an area of the Castle grounds, The Garden is a separate attraction, but it is possible to purchase a ticket which allows discounted entry to both over a two day period. All entry tickets are available from the Castle admissions office on Castle Square.
Alnwick will look familiar to many visitors thanks to its appearance in several Hollywood blockbusters, such as Robin Hood: Prince of Thieves (1991), Elizabeth (1998), a complete series of Harry Potter films (2001, 2011) (e.g. at the scene of the Quidditch match outside Hogwarts School), and again in Ridley Scott's Robin Hood (2010). The BBC's historical sitcom Blackadder, which ran from 1983 to 2008, was shot in great part at Alnwick Castle as well.
If you want to visit Alnwick you should arrive at Alnwick first. If you from abroad, you should arrive first at Heathrow airport at london. Then after that you can take flight to Newcastle. Alnwick is 23 miles from Newcastle Airport (Newcastle-upon-Tyne, UK).
Welcome to Alnwick, A Place of Your Harry Pooters Adventure Begin
There are regular buses from Newcastle (501, 505 and 518; one hour, 28 per day Monday to Saturday, 18 on Sunday). Bus 518 has 10 to 14 daily services to the attractive towns of Warkworth (25 minutes) and Alnmouth (15 minutes), which has the nearest train station. Buses 505 and 525 come from Berwick (45 minutes, 13 daily Monday to Saturday). The Arriva Day Pass (adult/child £5/4) is good value.
Alnwick is located on the A1 motorway that runs between London and Edinburgh. The town is 55 km (35 mi.) north of Newcastle-upon-Tyne and 500 km (315 mi.) north of London.
There is no railway station in Alnwick. The nearest station is Alnmouth in Bilton, 6.5 km (4 mi.) to the east. Almouth is a 25 min ride from Newcastle (£5.80). There are buses for Alnwick leaving from the train station.
National Express operates one daily coach from Newcastle (1 hour, £10) and two from London (7h to 7h30min, £35.30).
So, what can i say except Just Enjoy Your Holidays and Welcome to The Witch World of Harry Potter